Activities in Kettinge
Guided tours
Galleri Heike Arndt DK offers guided tours at our exhibitions with a very personal, artistic and critical view of today's society for private groups, art lovers and school classes. We accept groups of 8-40 persons. The cost is 90 DKK per person and the tour is about 1-2 hours long.
Workshops / Classes
From April 2015, we offer individual classes and workshops for groups of 4-20 participants.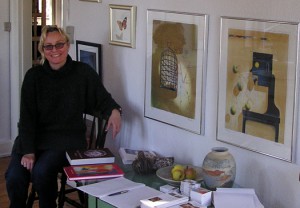 Lectures
Galleri Heike Arndt DK organises current presentations at the gallery in Kettinge, where either Heike Arndt or another artist will talk about a subject concerning anything from the gallery, the exhibitions and the artists to specific kinds of techniques and expressions. The event is for everyone who has an interest in art, art societies and other professional groups.
The gallery will keep you well informed about the coming presentations here on the home page.
If you would like to attend a presentation in the gallery, simply contact us. You also are more than welcome to inquire about specific topics for the presentation. Its always a good idea to check out our Facebook profile.