Open Call Fresh Legs 2019 is open for applications from November 1st – April 1st 12CET
Fresh Legs is an annual exhibition featuring drawing, street art, illustration, animation and similar fields open for all professional artists to apply. Since our first ever Fresh Legs exhibition in 2013, it has turned into an annual event that we always look forward to.
This is our attempt to promote drawing, street art, illustration, photo, short film, animation and similar fields. With this annual exhibition, we want to create a platform for the audience to meet, exhibit and discuss art in these areas and inspire newcomers as well as established artist in this field.
Who can apply:
All professional artists can submit their work.
When to apply:
Deadline: November 1st – April 1st every year
There is no submission fee for your application.
Exhibition opening: June
Only if you are accepted for the exhibition and have passed the 3 selection rounds and asked by our staff by mail to send us your work, send us the prints in good condition and unframed to the address below and submit a Work Description form on the back of the work and as a separate printed document.
We do not take responsibility for work that has been sent to us unsolicited!
Only when accepted, please send your work to:
Galleri Heike Arndt DK
Voigtstrasse 12
10247 Berlin
Germany
Tel: +49 (0)30 48 62 41 52
Once accepted, the artists themselves are responsible for the packaging, delivering, insurance of the artworks to, at and from the gallery.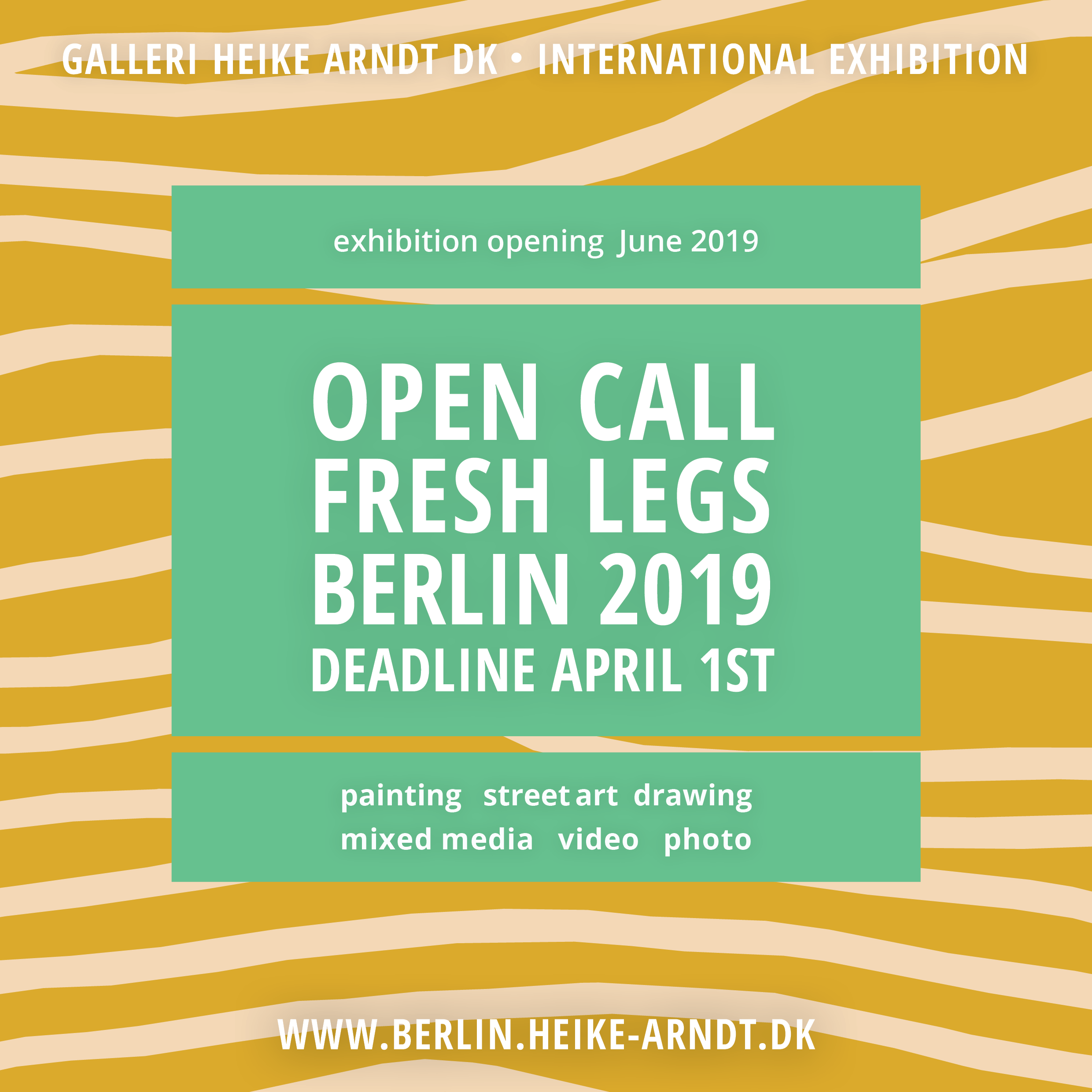 We charge a symbolic fee of € 38 once accepted, in order to cover the expenses for the print material (e.g. posters, flyers etc.) presenting one piece of work per participating artist.
Gallery service fee for sales are between 30-50 % depending on the material, and we need to have the works chosen at our disposition for 12 months, as we might display them in the following exhibitions in Kettinge and/or Berlin.
Please be aware that the gallery holds no responsibility for any damage or loss that may occur during transit, exhibition or installation. Meanwhile, we handle the works with exceptional care. We have not had any damages in 25 years' time handling art pieces.
Artists selected for Fresh Legs 2014: Fresh Legs 2014
Artists selected for Fresh Legs 2015: Fresh Legs 2015
Artists selected for Fresh Legs 2016: Fresh Legs 2016
Artists selected for Fresh Legs 2017: Fresh Legs 2017
If you have uploaded the application form successfully you will receive a mail 2-5 minutes after!