Open Call Mini Prints Berlin 2019 is open for applications from March 1st 2019 – august 1st 2019
Mini Prints Berlin
All professional artists are invited to participate in our annual Open Call Mini Prints Berlin. The artists featuring in this exhibition present a broad range of different graphics techniques and styles, covering traditional techniques such as woodcut, etching, and mezzotint, as well as exploring modern methods enabled by the digital development. With global influences, the show guarantees an intriguing experience depicting stories on both an individual and a common level. The strength of this exhibition lies in its sensitive versatility, technical skills and storytelling. It is also the perfect opportunity to develop your network within graphic art connecting you to many other Nordic and German-based artists.
For applying see application form below.
• All multiple printmaking techniques are welcome
• Size of the print (including signature): 30 cm x 30 cm (max)
• Size of paper: 40 cm x 40 cm (max)
• Each artist can submit 6 prints max
Only if you are accepted for the exhibition and have passed the 3 selection rounds and asked by our staff by mail to send us your work, send us the prints in good condition and unframed to the address below and submit a Work Description form on the back of the work and as a separate printed document.
We do not take responsibility for work that has been sent to us unsolicited!
Only when accepted, please send your work to:
Galleri Heike Arndt DK
Voigtstrasse 12
10247 Berlin
Germany
Tel: +49 (0)30 48 62 41 52
Remember to indicate the title of the work, the technique and your name on the backside of the work written with a pencil.
Artists selected for Miniprint 2014: Mini Prints 2014
Artists selected for Miniprint 2015: Mini Prints 2015
Artists selected for Miniprint 2017: Mini Prints 2017
Important dates
Deadline for Application: 1.March-August 1st at 12 AM CET
Exhibition opening: November (date TBA)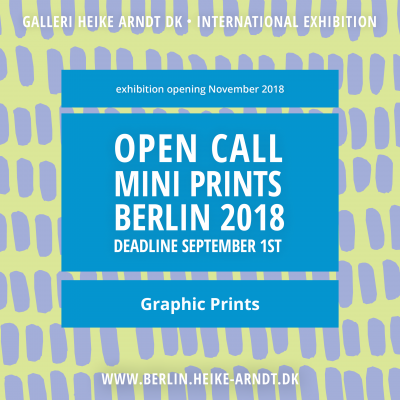 Important note
There is no submission fee, but the artists are personally responsible for the packaging and shipping costs of the prints to and from the gallery. Please be aware that the gallery holds no responsibility for any damage or loss that may occur during transit or installation. We handle the prints with the best care possible.  We have not had any damages in 25 years' time handling art pieces. Once accepted, a minor exhibition fee is required of €38 to cover the costs for print materials presenting the artists in a flyer and poster.
We need to have the works chosen to remain in our disposition for 12 months, as we might implement them in the following exhibitions in Kettinge and/or Berlin.

For sales, the gallery takes our normal comission.
If you have uploaded the application form succesfull you will receive a mail 2-5 minutes after !