Activities in Berlin

Besides our exhibitions, we arrange several events all year around.
Scandinavian Meeting Point Berlin – The Nordic Platform

Scandinavian Meetingpoint – die Nordische Plattform in Berlin
Mehr Info findet Ihr auf unserer Facebookseite: hier
Der Zuspruch für unseren monatlichen Scandinavian Meetingpoint (erster Mittwoch im Monat ab 19.00 Uhr) steigt weiter. Mit 1500 likes auf Facebook und immer etwa 50 Teilnehmern freuen wir uns, dass unsere soziale Plattform so gut angenommen wird!
"It does not matter if you have been in Berlin for ages or just arrived yesterday, you are always welcome at the meeting Points, which is what I love about it. And it is so unpredictable – you never know who is going to be there and you always end up meeting new people." Sofia,student,Sweden
Der Skandinavische Meetingpoint- die Nordische Plattform lädt zum Nordischen Treffen in den Räumen der Galleri Heike Arndt DK im Friedrichshain immer am ersten Mittwoch im Monat (nur Januar/Februar/August nicht) um 19 Uhr bis etwa 22 Uhr. Man kann gerne im Laufe des Abends kommen.
Berlin ist eine faszinierende Stadt die eine Fülle von Veranstaltungen und viel Sehenswertes anbietet. Unser internationaler monatlicher Meetingpoint ist eine kulturtelle und sociale Plattform wo man sich trifft,Erfahrunggen austauscht und vieleicht andere kennenlernt die ähnliche Interessen haben. Die Teilnehmer sind haupsächlich aus dem Norden aber auch andere Nationaliteten sind vertreten- alle mit Interesse an Nordischer Kunst und Kultur sind willkommen.Manchmal haben wir eine Ausstellungseröffnung oder einen Kurzfilm,musikalische Einlage -oft ist es einfach nur ein gemütliches Forum für Gespräche.. Im laufe des Abends kann man Getränke für einen Euro kaufen. Der Skandinavische Meetingpoint ist ein nicht kommerzielles,informales und nicht anmeldepflichtiges Forum wo die Teihlnehmer selbst den Abend mitgestalten.
Wen Ihr Euch für Skandinanische Kunst ,Kultur und für andere Menschen und Kulturen interessiert kommt doch einfach vorbei. Wir freuen uns auf Euren Besuch.
"Nordisch-Deutsches Bücherregal" hier können Sie ihre gebrauchten Bücher gegen andere eintauschen. Bringen und mitnehmen – völlig gratis !
Kommen Sie einfach vorbei und schauen sich unsere laufende Ausstellung an, trinken Sie einen Kaffee/Tee und machen Sie es sich bequem zum Bücherstöbern. Unser Team erzählt auch gerne mehr über unsere Ausstellung und unser Bücherregal. Es ist ebenfalls eine gute Gelegenheit nach dem Aufräumen oder beim Umzug Bücher abzuliefern die dann vieleicht jemand anderen erfreuen können. Unsere Galerie ist ein entspannter Platz schauen Sie doch einfach mal rein.

Neighbourhood walk
"Friedrichshain is a very historica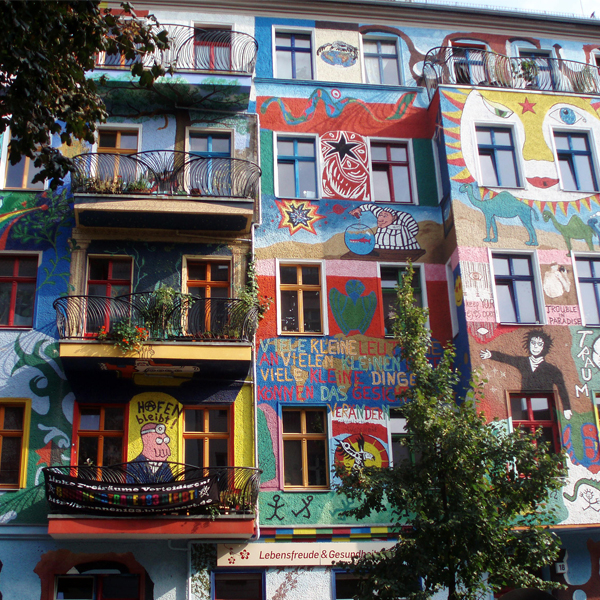 l neighbourhood and it was interesting to combine that with information about art in Berlin and how it is moving, so to speak. It is definitely not the last time we are doing one of those tours."
A guided walk around Friedrichshain, where the old East Berlin environment meets classical architecture and modern features creates a colourful neighbourhood that still manages to remain certain spots untouched by Westernisation.
The tour:
The guided tours are intended for everyone and will be customized based on the interests of the unique individuals. Both small and larger groups are welcome to sign up.
Normally, we include lunch or dinner at one of the local restaurants. The total price for a guided tour and lunch/dinner does not generally exceed € 25 per person.
For private visitors:
As for private visitors, we offer a guided tour of the gallery, talks about/with the artists as well as general information about the architecture in the area and the identity and history of Friedrichshain.
For art enthusiasts:
For those really interested in art, we provide a customized guided tour. The package includes a tour of the gallery, lectures about/with the artist, a tour about the architecture in Friedrichshain and its identity and history as well as visits to different artists. Please note that the meetings with the artists are only made possible by appointment.
For school classes:
For school classes, we provide tours around Friedrichshain where we talk about the architecture, the identity and history of the districts as well as meetings with other young people from the area.
For companies:
Bring your employees on a guided tour of the gallery, discussions with or about the artists plus a tour of the area, its architecture, identity and history. These tours are suitable for groups of 10-40 people. The price for a guided tour is € 15 per person and is maximum three hours long.