Open Call Fresh Legs 2020 udgave bliver vist i to gallerier.

The Open Call Fresh Legs for 2020 is now open. You can apply from November 1st – March 1th. 11.30 AM CET for our next Open Call in 2020!
"Fresh Legs" er en tilbagevendende udstilling med maleri,tegning, street art, illustration,foto,kortfilm, animation og lignende medier, som er åben for deltagelse af alle professionelle kunstnere. (Ingen grafik/Multiple undtaget fotografi !)"Dette er vores forsøg på at promovere maleri,tegning, street art, illustration, animationl,kortfilm,foto og lignende medier .
Sammen med vores samarbejdspartner, INSELGALERIE Berlin, skaber vi i denne udstilling i år, en platform for vores publikum til at mødes og diskutere kunsten på disse områder sammen. Både etablerede og endnu ukendte professionelle kunstnere tilbydes udstillingsrum og inspiration.
På 190 kvadratmeter præsenterer Inselgalerie udelukkende kvindelige visuelle kunstnere, hvad enten de maler, laver skulpturer eller arbejder med crossover-teknikker. Inselgalerie eksisterer siden 1995 og er unikt i Berlin med dette konsekvente kvinde program.
Om "Fresh Legs"
"Vores "Fresh Legs" udstillinger er siden 2013 en stor succes. Fælles for kunstnerne er deres individuelle måder at portrættere aspekter og bekymringer omkring humanitet og nutidens samfund . Flere kunstner vil ligeledes få muligheden for at bliver vist i en gruppeudstilling i efteråret i Denmark.
Hvem kan ansøge:
Alle professionelle kunstnere kan indsende deres arbejde.
Neden under findes en ansøgningsform, hvor du kan ansøge om deltagelse. Vær opmærksom på uploadningskravene og andre specifikationer.
Vigtige datoer:
Deadline for tilmeldinger: 1. november – 15. marts
(last upload until midnight 15. march each year)
Udstillingsåbning"Fresh Legs": juni – august
Kun hvis du er accepteret for deltagelse, og har fået en skriftlig email efter vores screening direkt fra galleriet, skal du sende dine værker på en sikker måde, til adressen nedenfor med vedlagt værkfortegnelse ,og med værkoplysningerne på bagsiden af værkerne.
Send til:
Galleri Heike Arndt DK
Voigtstrasse 12
10247 Berlin
Germany
Tel: +49 (0)30 48 62 41 52
ELLER
Inselgalerie
Petersburger Str. 76A,
10249 Berlin (Germany)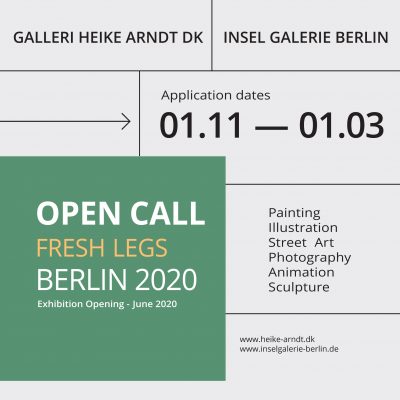 Der er ingen udgifter i forbindelse med tilmelding.
Vær venligst opmærksom på, at galleriet ikke holder sig ansvarlig for skader eller tab, som måtte opstå i forbindelse med forsendelse eller installation og udstillingen. Når det er sagt, håndterer vi selvfølgelig kunstværkerne med størst mulig forsigtighed. Vi har ikke haft en skade i de 25 år, vi har håndteret kunstværker. Bemærk venligst at alle værker skal være til salg.
Ved efterfølgende accept af deltagelse er kunstneren selv ansvarlig for udgifter og arrangering af pakning, levering og forsikring af kunstværkerne til og fra galleriet. Udstillingsafgift: I forbindelse med selve udstillingen opkræves et mindre beløb på 38€ til at dække udgifter i forbindelse med printet pressemateriale (fx plakater og flyers,katalog).
Galleriets servicefee ved salg er fra 30-50% afhængig af mediet.
De udvalgte arbejder skal være os tilgængelig i min. 12 måneder og dermed for muligheden at implementere værkerne i yderlige udstillinger.
Værker der er send uopfordret tager galleriet ingen ansvar for.
Udvalgte kunstnere til Fresh Legs 2014: Fresh Legs 2014
Udvalgte kunstnere til Fresh Legs 2015: Fresh Legs 2015
Udvalgte kunstnere til Fresh Legs 2016: Fresh Legs 2016
Udvalgte kunstnere til Fresh Legs 2017: Fresh Legs 2017
Udvalgte kunstnere til Fresh Legs 2018: Fresh Legs 2018
Udvalgte kunstnere til Fresh Legs 2019: Fresh Legs 2019
Når du har succesfuld uploadet modtager du en mail c. 2-5 minuter sener med din ansøgning !