Spring exhibition is open from 28. April 2019
The doors are open again at our gallery in Kettinge!
Only two weeks left with our international exhibit Discoveries 2018 before selected pieces will move on to TRANSIT at Palæfløjen in Roskilde, where artists from our Gallery in Berlin will exhibit.
TRANSIT features carefully chosen artists from our venue in Berlin. Several of the other artworks have got new owners who soon will take them home…
From April 28, we will open our spring exhibition – with many new artworks.
As always, you can book tours (either with or without lunch) and arrange visits outside our opening hours. And yes we will be open at Easter!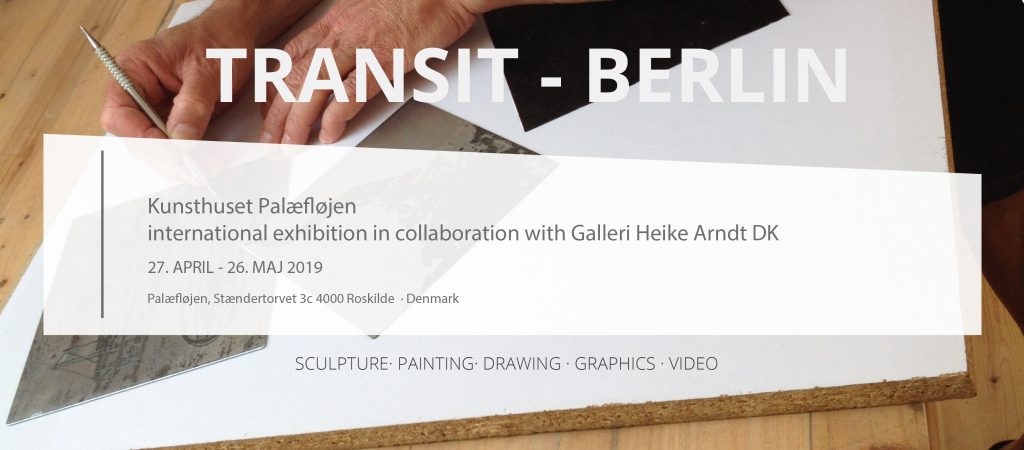 TRANSIT BERLIN – international exhibition in Roskilde at Palæflojen
SCULPTURE – PAINTING – DRAWING – GRAPHICS – VIDEO
Exhibition period: April 27 – May 26, 2019
TRANSIT BERLIN celebrates diversity from the materials chosen to themes and expressions. Its intention is to surprise and create astonishment while appealing to the viewer's empathy and curiosity.
Gravity and humor can be experienced side by side among the many works, giving rise to both smile and thoughtfulness.
With the exhibition, Kunsthuset Palæfløjen wants to show the variety and spaciousness that arises when artists based on different cultures are part of an open and creative dialogue with Berlin's art scene.
The exhibition is arranged in collaboration with Galleri Heike Arndt DK in Berlin.
Review: Saturday, April 27 at. 12 – 14.
Opening speech by historian and German landlord Martin Ejner Olsen Grunz.
Artists' meeting on April 27 at. 13 – 14 with 5 of the exhibiting artists and Heike Arndt.
__________________________________________________________
Ground floor:
19 artists from 12 different countries, who all have lived and worked for either a short or long term in Berlin.
Lisa Rytterlund (SE), Hannes and Johannes (SE), Christina Tzani (GR), Erik Weiser (DE), Raquel Algaba (ES), Yumie Yamakawa (JP), Maria Persson (SE), Ivàn Prieto (ES), Jean Baptiste Monnin (FR), Lutz Hellmuth (DE), Oscar Rey (ES), Chloe Grove (GB), Albrecht Wild (DE), Anna M. Kempe (DE), Frank Paul (DE), Ivan Arkhipov (RU), Takuya Kurihara (JP), Simone Hooymans (NL), Martin Gerstenberger (DE).
First floor:
GRAFIKSALON is held with even more artists from all over the world. Versatile expressions combined with exquisite technique are presented here.
Featuring Galleri Heike Arndt DK Miniprint 2018 artists:
Ariel Kofman (ARG), Georg Bothe (DK), Jen Hamilton (CAN), Margot Myers & Lisa Turner (US), Katsuko Ono (JP), Carolin Weinert (DE), Masaaki Sugita (JP), Jaco Putker (NL), Christian Bolte (DE), Ryan Falzon (MLT), Grycja (UKR), Paula Gallardo (ES), Richard Hricko (US), Baukje de Loos (NL), Ricardo Pinto (MEX), David Frazer (AUS), Ximena Bórquez (CHL), Peter Boyadjieff (CAN), Barbosa Consuelo (FR), Blaze Cyan (UK), Brandon Williams (US), Brenton Good (US), Bruno Nadalin (US), Cleo Wilkinson (AU), Cynthia Back (US), David Avery (US), Durgadas Garai (IN), Ekaterina Vopiyashina (RU), Ellen Rouppe (NL), Gervasio Robles (AR), Hui Ann (CN), Hyun-Jin Kim (KR), Jacob Muldowney (US), Lucas Naganuma (BR), Marcelle Hanselaar (NL), Nicholas Wilson (US), Robert Kelly (IE), Tallmadge Doyle (US), Thamrongsak Nimanussornkul (TW), Ute Braatz (AU), Wei Yuhang (CN), Xecon Uddin (FR)
In mid-May the graphics exhibition will change and new exciting works will be hung up.
__________________________________________________________
TRANSIT BERLIN is a sensory experience out of the ordinary – a display packed with interesting art and unique stories from the individual artist. Join us on our journey.