Fresh Legs Open Call 2017  from June 7th.
Galleri Heike Arndt DK Berlin presents the exhibition "Fresh Legs Open Call 2017" !
PAINTING    DRAWING    VIDEO   MIXED MEDIA     SCULPTURE
Participating Artists at Fresh Legs 2017 are: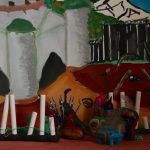 Andrea Riba (DE/CL)]
ARTIST PROFILES – FRESH LEGS 2017
Albrecht Wild (DE)
The principle of division is the key motive in the works of German painter and conceptual-artist Albrecht Wild. However Wild doesn't see division in the sense of partition or destruction. It is rather a way to reassemble small and uniform pieces to a whole, which can be discovered in his continuously extending "Beermats" series.
Amanda Karlsson (SE)
Isolation, solitude and self-identity are the main topics in the artwork of the Swedish artist Amanda Karlsson. With those topics she tries to work in the most impersonal way possible, as she asks a model for a personal event or story that connects the person and the current thematic. Here the artist acts as an intermediator between the visual and the stories she's told. An intermediator between subject and viewer; someone that listens, gathers and carries.
Anastasia Savinova (SE)
Many techniques like drawing, photography and oil painting are balanced throughout the artwork of Russian artist Anastasia Savinova. When observing her works, one can notice references from architecture, geometrical shapes and implemented themes of human relationships. Especially in her Collages "Geometry of Organic" Savinova approaches the connection between the organic form and structure.
Andrea Riba (DE/CL)
In her animation "Alien Garden" Riba is searching for our identities as human beings. Her figurative artistic language has clear references to the mythology of various cultures and its interior spaces. With a narrative and playful approach she questions our acknowledgments and actions towards a more sustainable way of life.
Anja Seidel (DE)
In her works Seidel employs signs and symbols such as quotes, household items and illustrative patterns in order to comment on the joys and struggles of living in modern society. Through the vivid drawings she shows the sometimes humorous, sometimes embarrassing, trivial, obsessive or sentimental aspects of daily life. The details in her work are recognizable and often humoristic objects or situations we can all relate to.
Anna M. Kempe (DE)
The colourful and figurative drawings of German artist Anna M. Kempe use visual metaphors to point out the paradoxical and neglected aspects of living in the modern society. Sometimes poetic, absurd or surrealistic Kempe manages to question the daily communicative or social issues in a humorous manner.
Chloe Grove (GB)
London born artist Chloe Grove presents large format works in coloured pencil. With her unorthodox technique she challenges the traditional use of this medium. Layers of colour are built up and blended until the paper reaches the point of saturation and the surface achieves a burnished sheen. Inspired by physics principles, space exploration and digital aesthetics, Chloe Grove attempts to depict the essence of light energy and reimagine it in an abstracted, decelerated alternative reality.
Christina Tzani (GR)
The works of Greek artist Christiana Tzani focus on children figures. In subjects such as child abuse, her artworks convey a sense of isolation, repulsiveness and abandonment. The almost poetic appearances place her works in a context of oppositeness. Tzani enhances the feeling of guilt when the viewer enjoys the aesthetics of the colors used.
Chung (KR)
Main emphasis in the work of Korean artist Chung is documenting landscapes of various places in Korea and Europe. It's her goal to record her residence and its surroundings, which have constantly changed since her childhood in the process of frequent moving and becoming an adult. Chungs work is improvised, nothing is planned ahead but decided instantaneously in the process of her brush work.
Domenico CV Talarico (IT)
The pictures of Italian artist Domenico CV Talarico are based on photographs from bygone time. People portrayed on these pictures actually existed at one time, but the memory of them has been extinguished. What has remained are only images of them. Talarico creates worlds in which these old protagonists are assigned a new role and thereby brought to life again.With his works Talarico creates a dream-like and the same time macabre atmosphere, and encourages the viewer toward reflection.
Elham Rahmati (IR)
Iranian visual artist Elham Rahmati has been working with political and social issues within the difficult  political climate of Iran, concentrating mainly on gender identity issues which are visible in her paintings. The focus in the series of drawings "Not only will I stare. I want my look to change reality" lies in the looks. Looks that are seen as confrontational, as gestures of resistance and challenges to authority. The gaze is political, it can be dangerous.
Jean-Baptiste Monnin (FR)
With a background in architecture and fine arts french artist Jean-Baptiste Monnin describes the architectural and urban space and our perception of it as focal points of his work. He is mostly inspired by the rhythm and the repetition of patterns in architectural constructions. The basis of his works are photographs of contemporary buildings, which he takes himself on trips through the city.
Katalin Kortmann (HU)
The interests of Hungarian artist Katalin Kortman, such human nature and psychology, personal history and rituals of various people, are clearly reflected in her artwork. As she appreciates naive art and realization forms she tries to preserve this kind of naive expression in her works. Kortmann often combines different techniques and tries to use new and innovative materials.
Lutz Hellmuth (DE)
German sculptor Lutz Hellmuth accentuates and shapes the public space with his plastic art and sculptures. His works, though abstracted and reduced, clearly mediate the phenomenon of interpersonal relationships as well as the artist's perception of the individual and society. With his incisive and distinctive style Hellmuth presents powerful pillar figures and expressive figurations.
Mady Piesold (DE)
In the works of Berlin artist Mady Piesold the human being acts as a spectator in the events of controversy between the natural and the artificial. The evolution of people, their consciousness, their sexuality and their identity are focal points in Piesolds artistic work. In her paintings and drawings these topics are being addressed through metaphorical landscapes, animal figures and portraits.
Marco Mercati (IT)
For the italian painter Marco Mercati dreams are a dimension of everyday life – not only at night but always. He often first produces photos of different objects or even himself, then twists and transfigures everything and places these imaginary images in a classical environment. In his paintings, he proposes a kind of a nightmare to us, a dreamlike, oscillating state between a limbo of fluid sensations and an existential anguish.
Parul Mohda (DK)
The works she creates refer to processes of inculturation: daily situations, decisions, and dilemmas one encounters as a consequence. The experience of dislocation, displacement and the act of being forcefully uprooted has left a strong impression. With this comes a knowledge and understanding of a rich breadth of cultures, languages, and lifestyles. This has had a significant impact on the work she produces. Images of household items, anatomy drawings and maps are used to explore relationships between one's roots and history, bringing the visual dialogue to the present day.
Paule Ducourtial (FR)
The education as an architect has given French artist Paule Ducourtial a knowledge of composition as well as great spatial understanding and attention to detail. Her work is inspired by botany and feeds the imagery she creates. Her expression is based upon Concrete art and Minimalism, but over time has become increasingly more organic and figurative in its form.
Raquel Algaba (ES)
The drawings of spanish artist Raquel Algaba are mirroring the human mind. The unspeakable, what we can not define.The figures in the images she creates are playing hide and seek between its structures. Just as it happens in our memory with images – everything seems to be blurred to begin with and suddenly collapses into small gaps or we are being presented with forms we can not recognize. In her works she is questioning how immaterial images operate in these processes and what role they play in human communication.
Sidney Mullis (US)
In her videos American artist Sidney Mullis performs as invented animals or life forms. She is thereby expressing a domain of alternative biology and culture, including different aspects of gender. Mullis playfully creates a visual playground to speculate boundaries of gender performance and investigates adolescence and adulthood by combining adult content with materials suitable for children's crafts.
Vojtěch Kovařík (CZ)
Czech artist Vojtěch Kovařík works with a challenging and colourful combination of collages, lettristic appeals and various concepts. In his works he displays art brut like  scenes which are, in fact, a sophisticated socio-political examination which reflect on events of injustice and bizarre aspects of the Czech Republic. Kovaříks artwork is very much influenced by (post-)underground and tries to break conventions of the current system and western society.