Dear friends and art devotees,
Here it comes, Galleri Heike Arndt DK's summer newsletter 2017 with the latest updates of this season as well as the upcoming activities in Berlin and Kettinge during the fall. Enjoy the reading!
We would like to take this opportunity to express our gratitude to everyone showing interest in our activities and supporting the gallery. We appreciate your engagement!
Thanks to our visitors, artists, collaborators and of course this season's intern team, we are able to keep boosting the artistic and cultural exchange between Germany and the Nordic countries through our two galleries in Berlin (DE) and Kettinge (DK). Thank you!
Have a lovely summer, and we hope to see you in one of our galleries soon! Don't forget, our next Berlin Scandinavian Meeting Point is on Wednesday the 6th of September at 7pm!
OPEN CALL FRESH LEGS 2017
(June – September) Albrecht Wild (DE), Amanda Karlsson (SE), Anja Seidel (DE), Anastasia Savinova (SE), Anna M. Kempe (DE), Chung (KR), Parul Modha (DK), Elham Rahmati (IR), Chloe Grove (GB), Paule Ducourtial (FR), Doménico CV Talarico (IT), Jean-Baptiste Monnin (FR), Mady Piesold (DE), Marco Mercati (IT), Sidney Mullis (USA), Raquel Algaba (ES), Katalin Kortmann (HU), Christina Tzani (GR), Lutz Hellmuth (DE), Andrea Riba (DE/CL)
Our annual open call exhibition Fresh Legs 2017 was an even bigger success than we could have hoped for. With more than 500 works to choose from, from all over the world we picked 20 artists that together created a vivid space where different art techniques such as video, sculpture, mixed media, drawing and illustration could meet. The opening of this exhibition resulted in more than 150 visitors in our facilities – and it was indeed a great night!
Fresh Legs 2017 is currently on display at Galleri Heike Arndt DK Berlin and will be running until September. After July we are on a summer break and so the gallery will be closed in August. During this time we welcome you to call us and set up an appointment to see the exhibition!
OPEN CALL MINI PRINTS BERLIN 2017
Our annual open call exhibition
Mini Prints 2017 
will take place in December as usual. In this group exhibition upcoming graphic artists get the chance to expose their works presenting a wide range of graphic techniques and styles, covering traditional methods such as woodcut, etching and mezzotint, but also modern methods enabled by the digital development.
Therefore the exhibition gives the audience a great opportunity to gain an insight into graphic expressions and offers great artworks for reasonable prices. We have already opened up for applications.
Deadline is
September 15th, 2017. Read more about how to apply for Mini Prints here. 
ART RESIDENCY, KETTINGE
We are proud to have the possibility to offer professional artists an opportunity to stay in our
art residency in Kettinge
.
This year we are happy to host two artists, sculptor Iván Prieto and printmaker Fabio Valencia.
Their stay at the residency is supported by
Integra Advokater
 . Thank you very much!
Iván Prieto (ES)
Iván Prieto's work focuses on ceramic sculptures, but he also creates illustrations and installations. In his colorful surrealistic sculptures, Prieto captures certain fragility of humans and life in general, including indications to physical disabilities (such as deafness and blindness), as well as mental imperfections, with each character being inspired by real-life human counterparts. Prieto wants to explore the transgressing of physical and mental borders in his art, which is in some way relatable for everyone.
Fabio Valencia (CO)
Printmaking artist Fabio Valencia, depicts the poetical aspects of different objects and nature in his print works. In this exhibition, Valencia's art concentrates on expressing concerns about water supply, and reflections about water's vitality as an element, creating a clear theme to his series of works. Valencia's pieces show simplicity and detailed prints that focus on important and current issues of our everyday lives.
ARTIST TALK 
On Sunday 23rd of July we would like to invite you to the Artist Talk with sculptor Iván Prieto and printmaker Fabio Valencia at Galleri Heike Arndt DK in Kettinge, Demark. It is going to be a friendly meeting with this year's ArtLab residents to have a nice conversation over a glass of wine about their artwork and colorful personalities! Come by to hear interesting stories about their life and work. We are looking forward to seeing you there!

Our event is supported by Guldborgsund Billedkunstråd. Thank you very much!

you can join us on Facebook for the event.
We also hope some of you would like to meet the artists and function as a mentor – meaning to spend some time doing their month stay  -having a meal together or showing them a bit around in our region. Please call as at +45 60902481 in case you are interested to meet one of the artists and being part of making their stay memorable.
BERLIN – INTERNS
This season's team of hardworking interns; Jacqueline, Nanna and Jan have kept the gallery in tune and running with lots of enthusiasm. Thank you!
If you, or someone you know, is interested in doing an internship with us, click here for more information. We are always in search for new ambitious people to join our team.
VISITING US/SUMMER OPENING HOURS
Summer opening hours:
Berlin: Wednesday-Friday, 1pm-7pm, Saturday 11am-6pm
During the summer we are open as usual, except for August when we are only open by appointment. Please do not hesitate to call us to see the exhibition!Kettinge: Saturday-Sunday, 11am – 4pm.
We are happy to keep the gallery open during weekdays for you, just give us a call. We offer tours in the gallery where you can learn more about the artists' background for 8-40 people.
We hope that you have enjoyed this spring with us as much as we have enjoyed it with you. As always, you are very welcome to pop in for a coffee, a nice chat or simply revel in handpicked good quality art in Berlin and in Kettinge. Make sure to drop by if you happen to be in the area!

Once again we wish you a wonderful summer!

All the best,
Galleri Heike Arndt DK
Berlin: exhibition FRESH LEGS, 2016
Dear friends and artlovers
Fresh from the "typewriter" comes our Winter Newsletter 2016 with an overview of our activities in Kettinge and Berlin. Have fun while reading!
A thank you goes to visitors, artists, partners, sponsors, customers and, of course, our team of interns. You all made it possible for us to continue to work enthusiastically for the art and cultural exchange between Germany and the Nordic countries through our galleries in
Berlin (DE
)
and
Kettinge (DK)
. Thank you!
Do not forget to visit our 3-day pop up exhibition and our last Scandinavian meeting point in Berlin Wednesday, December 7th from 7 pm! Just before our winter break,
Events until the turn of the year in Berlin and Kettinge
Kettinge: Saturday and Sunday from 11am – 4pm until December 4th. Afterwards we have a winter break. We open gladly for visitors by prior appointment.
Berlin: Wednesday – Friday 1pm -6pm, Saturday 1pm – 5pm until December 9th . Afterwards we have a winter break. We open gladly for visitors by prior appointment.
The opening hours for our events can be found under "Events before the turn of the year".
Until December 3th, Strange Brew
Galleri Heike Arndt DK presents drawings, mixed media and sculptures in a wide variety of materials that deal with space, rhythm, relation, but also childish nostalgia and fears.
Together, the selected works by the artists Jan Pötter (DE) (DE) Sculpture, Giuditta R. (IT) Drawing and Katharina Kleinfeld (DE) Glass is a dynamic, seductive but also disturbing exhibition.
Only few days left!!
SCANDINAVIAN MEETINGPOINT CHRISTMAS EVENT
THE NORDIC PLATFORM
We cordially invite you to our CHRISTMAS EDITION on December 7th from 7 pm. Come and join our shared dinner table! Everyone brings something to eat (from boiled egg to vegetarian food, meat, fish or sweets – everything is welcome!) For our joint Christmas dinner and of course a super cozy and pleasant evening!
Until December 4th Opdagelser 2016
These works, with their diversity in materials and techniques, testify the stories, backgrounds and travels of the artists. Opdagelser offers the possibility to reflect on the present and the human being in itself.
We present an insight into a poetic and urban complexity with a playful sense of humor that often has both local and international relevance.
Only few days left!
Retrospect in BERLIN and Kettinge
2016  Berlin
We are very pleased with the steadily growing number of visitors. Among other things several groups visited us, including the women's network "Morgenfruer", they joined our series of lectures / intro arrangement, and it was a super success.
We decided to move our Mini Print Berlin Exhibition 2016 due to technical changes. This opened the possibility to test our new pop-up exhibition concept. "24 hours – my personal choice" 3 days 8 hours a day with a selection of works that I was particularly keen on. We are looking forward to your response to this initiative.
2016 in Kettinge
Galleri Heike Arndt DK Kettinge was also able to record a growing number of visitors, and we were able to help several new customers in Copenhagen to choose art for their office space. Integra lawyers Copenhagen supports our fantastic exhibition discoveries 2016, organized under Artlab Kettinge, where we show new international and local talents. This show can still be visited until December 4th. We were pleased to note that Marian Heyerdahl, introduced by us, had a huge audience with her sculptures "Teracotta Woman" at the annual "Lys over Lolland" art and culture festival.
Artlab Kettinge welcomed Elena, Franco and Mirco from Italy for a 14-day stay at our Residence in Kettinge. They contributed with great enthusiasm and support, now the completion of the space only needs the finishing touches. They also had time to explore and enjoy the surroundings.
COMING events in Berlin and Kettinge 2017
As we all know, the summer is always going too fast, and before we look around, the leaves turn yellow and the first snow falls. We have already started to prepare our upcoming exhibitions with exciting international artists. We will also work on new concepts for both spaces. Also 2017 there will be fantastic, challenging and surprising artworks on display.
BERLIN – Trainees
If you or someone you know is interested in an internship with us, click here for more information. We are always looking for ambitious, enthusiastic and loyal interns for our team.
Exhibition partner for Berlin wanted
Currently we work with new ideas around the gallery in Berlin and we would like to invite new innovative partners to work with us. If you have a great idea that you want to co-finance and realize, do not hesitate to contact us.
Our new concept includes, in particular, externally curated cross-border exhibitions with a special focus on pop-up of Nordic and German exhibition projects. We invite both curators and / or artist groups to present their project. Likewise, we invite Scandinavian and German art and cultural players and cultural institutions to work together with us.
We thank our sponsors, including Integra lawyers, for their support for the Discoveries 2016 exhibition and for their commitment to finance two scholarships for two international artists for a stay on Lolland-Falster.
If you or your company would like to get acquainted with international artists and at the same time want to enable them to work for a one-month stay in our new artists' residence on Lolland-Falster – contact us. A maximum of 10 work grants are awarded each year and your sponsorship will be an "exclusive agreement". Contact us for more information.
Once again, we wish you a wonderful winter with personal successes and pleasant times!
The team and me, Heike Arndt, will remain with the best regards and hope to see you soon.
---
About Galleri Heike Arndt DK
Our profile is based on a broad understanding of art, people and cultures. As a non-profit gallery we offer an open and dynamic platform where people can meet and appreciate art as well as work together in cross-cultural collaborations. Besides our passion for conveying contemporary art, the gallery also functions as a place for social gatherings. Our monthly event 
Scandinavian Meeting Point
 in Berlin is accessible for everyone with an interest in Nordic culture.
In addition to our solo exhibitions, we always have more than 400 graphic works available for purchase.
For more information, visit us at: 
heike-arndt.dk
Newsletter October 2016
Dear art lovers!
Galleri Heike Arndt DK is pleased to present 'Hindsight,' exhibiting a selection of current and existing works –  sculptures by Henry Stöcker (DE) collages by Poul R. Weile (DK) and paintings by Michael Kain (DE). Our choice of title reflects the notion that when exploring a new creative direction, one may not know it until afterwards – as the English saying goes, with the benefit of hindsight.
This idea of retrospect is integral to our exhibition. All three artists having produced work in the context of numerous significant changes in Europe, and have explored a wealth of creative processes. Presenting a journey through multiple directions in artistic expression, 'Hindsight' captures experience, reflection and nostalgia.
We are delighted to share this collection of works with you at Galleri Heike Arndt DK. Whether you are an art enthusiast or just want to look around and discover something new, everyone is welcome to join us for our opening on the 5th of October where Poul R. Weile, Michael Kain and Henry Stöcker will be present.
If you are not able to attend the opening event, please do come by during the run of the exhibition until the 29th of October.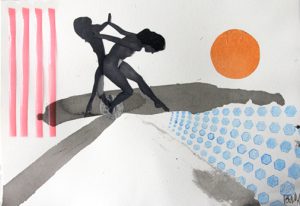 Poul R. Weile (DK)
Born in 1954 in Odense, Denmark, is a recognized sculptor and visual artist. Integral to Weile's practice is his open-minded approach and the fact that he follows no style, which has indeed become his artistic signature.
In his mixed-media collages, Weile creates a weird and wonderful environment for a found image, often an erotic female form. His work bridges the line between kitsch and art, and embodies senses of humour and irony that are incredibly inviting. Weile has a great thirst for knowledge, and an inherent curiosity that still today leads him to push boundaries in his own expression of visual art.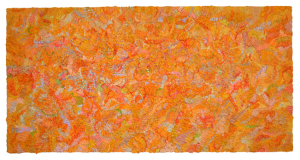 Michael Kain (DE)
Berlin-based abstract painter, with roots in the traditions of classical figurative art. He now creates works comprised of heavy layering of oil paint and demonstrates attentative experimentation with colour and tone. His pieces can be said to reminisce modernist values of pure painting, where there is an honesty in the relationship between the paint and the canvas and no 'illusory' storytelling through recognisable figures.
Today, Kain's work has been exhibited internationally with significant shows in Germany, Denmark, Great Britain and Russia, and he continues to create art through abstract expression.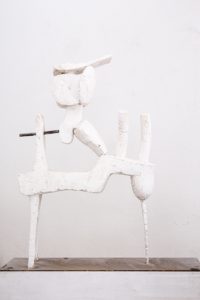 Henry Stöcker (DE)
Born in 1954 on the island of Rügen, Germany, is a predominantly sculptural artist whose works are significantly influenced by his extensive biological studies at the University of Rostock and fascination with the subject.
The result is a body of work that demonstrates a perfectly balanced dialogue between science and art. Through playful use of form, Stöcker is continually testing the viewer to look for something recognisable, bringing to life biomorphic shapes that may otherwise only be seen under a microscope. Stöcker's innovative approach to sculpture has won numerous awards throughout his artistic career, and he remains to be a practicing artist in Berlin today.
We are looking forward to your visit to this unique exhibition! You are very welcome to forward or share this invitation with other art enthusiasts.
Sincerely,
Galleri Heike Arndt DK
Laura – Nanna – Clara – Britannie – Bärbel – Heike
Deadline of Mini Prints 2016 Application Extended
The deadline for our Open Call Mini Prints 2016 has been extended to the 15th of October! This will be the last chance to send in your application, so make sure to mark the date in your calendar. Please share this post with your fellow artists.
More information and application form here: 
http://berlin.heike-arndt.dk/…/competiti…/mini-prints-berlin
Our exhibition in Denmark
Galleri Heike Arndt DK, Kettinge (DK)
Art Lab Kettinge
The international Summer Exhibition in our danish gallery, "Art lab Kettinge" will be displayed until October 9th 2016. We were just in Berlin and brought some artworks with us, from Japanese Yumie Yamakawa among others. You are warmly welcome to visit us!
Opdagelser 2016
In addition, we are delighted to reveal the date of our next exhibition Opdagelser 2016 in Kettinge. Make a mark in your calender at the 15th of October, from 1pm until 5pm, where lots of our international artists will show up as well. The exhibition will run until the 30th of April 2017. Read more here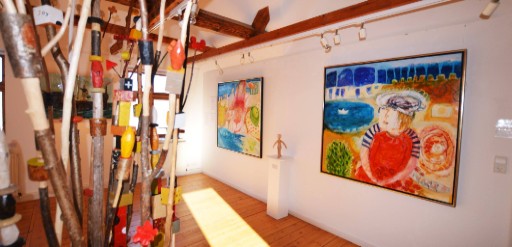 About Galleri Heike Arndt DK in Berlin and Kettinge
Galleri Heike Arndt DK is a Danish project gallery with an international profile which has its facilities in Berlin (DE) since 2008 and in Kettinge (DK) since 1989. Being a non profit gallery we exclusively choose art according to artistic criterias. Galleri Heike Arndt DK is defined as "klein aber fein" and focuses on contemporary art from the Nordic and German art scene. Displaying paintings, sculptures, drawings, graphic prints and new media such as street art. Visitors can expect in Kettinge and Berlin artistic expertise combined with a cosy setting and time for a pleasant talk and a cup of coffee.
Furthermore we offer:
– Guided tours in the gallery for groups
– Internships for Nordic students in our galleries
– Two open calls where artists can applylinks
– More than 400 graphic pieces for sale (webshop coming soon)
– The famous monthly event Scandinavian Meeting Point in Berlin
– Open stage for musician to perform
– Drop by – it is definitely worth it.