Art Lab Kettinge ,Artist

residency

on Lolland (Denmark):
In continuation of our longstanding work with art communication on Lolland, we are in the process of establishing an art residency to create the best possible facilities for professional artists.
The project with our artist residency gives also an opportunity to establish a closer relationship between the art world and the locals. The residency should be of a manageable size and provide high flexibility and affordable running costs, which can also withstand times of crisis.
The vision is to establish a residence for 2-4 professional artists, including painter, musician, architects and other professional people within the artistic field at a time. The site contains various studies that give residents the opportunity to work innovativ in their creative sector (including graphics, sculpture, painting and music and video / film).
In addition, our aim is to be able to arrange workshops for both artists and the local population in order to get the joy of diversity and community.
We are currently in the process of establishing work studios for painters, sculptors and graphic artists. The facility holds different graphic presses for lithography that can be used for printing on stone as well as for aquatint, dry point or woodcut.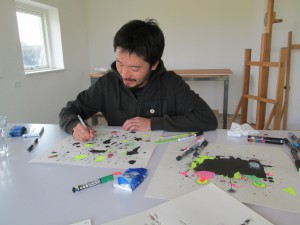 Architects, musicians and writers are also welcome to apply.
You will have a furnished private room  to stay in, besides your work space.
Moreover, we offer you the possibility to apply for a place at our exhibitions. The cost for your stay depends on what you wish to work with. Contact us for further information.
On request we can provide a letter of invitation for your search for financial support for your stay. Two artists a year will be granted the chance to stay and work for free. Each of them stay for one month.