Treasures: Giuditta R (IT/DE/DK), Luca Di Maggio (IT/DE) and Dorit Trebeljahr (DE) 
Presenting: Drawings and Sculptures
We proudly invite you to our exhibition opening September 3rd 2014 at 7 p.m. and to visit until  .5.october 2014
About the exhibition
Hauntingly, playful and disturbing. Those are the keywords for the upcoming Autumn Exhibition "Treasures". The exhibition concentrates on three excellent artists, who all search for the unconscious treasures of the human being and invite you to do the same. Giuditta R (IT/DK/DE), Luca Di Maggio (IT/DE) and Dorit Trebeljahr (DE) will lead you to fields of the unknown with their thoughtful, honest and authentic drawings and sculptures. The artists expose themselves in a manner which enables the process of reflection and self-awareness.
Come by and take a look. Who knows what kind of treasures you may find…
Luca Di Maggio (IT/DE)
Luca Di Maggio is an Italian artist in search of an equilibrium.
Without claiming an objective truth, he wants to present his perspective of life. Expressive strokes and street artistic dynamic materializes his soul and inner life into visual tangible works of art. "Doing the things that everyone can do and adding a personal touch that comes from the heart and spirit", Luca Di Maggio says, continuing "art is all about living your life without feeling the need to conform to the mass."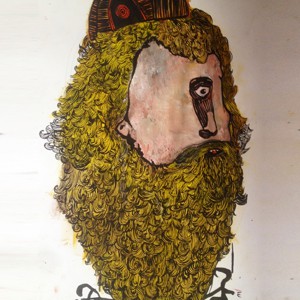 Using his passion for both street art and classical art techniques, Di Maggio is trying to establish a connection between tradition and modern art expressions. Contemporary street art serves as the inspiration but is expressed through classical techniques. By that, he succeeds in transferring street art into sophistication. Read more about the artist here
Giuditta R (IT/DE/DK)
The Italian artist, Guiditta R, depicts apparently cheerful children playing and posing as on long forgotten photographs. But somehow disturbing – there is more underneath the surfaces of twisted faces and black/white colors. The meeting with Guiditta's works of art develops into a disturbing and yet alluring experience. Using both horror-movie aesthetics and expressionistic gravity in her search for the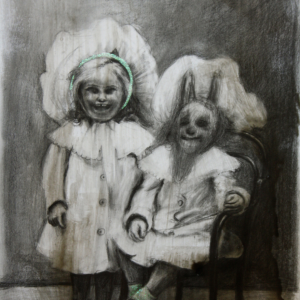 dark, unconscious side of human existence and how it is captured in human faces, she let her drawings become portraits of the surfacing subconscious. All visualized in a manner full of melancholy and mystery. Read more about the artist here
Dorit Trebeljahr
Dorit refers to her sculptures as an expression for a "poeticized search for clues, with material, with language, with the body". According to the artist, the creations do not conform into a specific concept other than that they are all the result of  playing, refering to the playfullness in all of us. The playfulness is noticeable in her creations, where she twist the viewer's mind by asserting the used material with other images and meanings than what may be expected.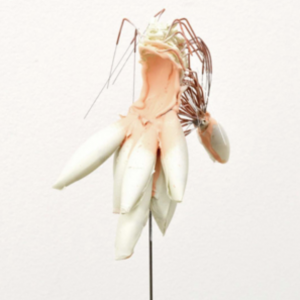 The creations are permeated with a playful view on colours, shapes and quantity, combined with a strong sense of rhythm and repetitive patterns. By using a number of individually quite modest things in a larger scale, such as acupuncture needles, and turning them into something else, Dorit succeeds in creating striking "useless" sculptures. Read more about the artist here
About Galleri Heike Arndt DK
Our profile is based on a broad understanding of art, people and cultures.
As a nonprofit-gallery we offer an open and dynamic platform where people can meet and appreciate art as well as work together in cross-cultural collaborations.
Besides our passion for conveying contemporary art, the gallery also functions as a place for social gatherings. Our monthly event Scandinavian Meetingpoint in Berlin is accessible for everyone with an interest in Nordic culture.
Besides our solo exhibitions, we always have more than 400 graphic works available for purchase.
See more on: heike-arndt.dk 
We look very much forward to your visit at our exhibition opening September 3rd at 7 p.m.
You are very welcome to send our invitation forward to other art lovers.
Yours sincerely
Galleri Heike Arndt DK