JEAN-BAPTISTE MONNIN (FR/DE)
Monnin creates minimalist black and white graphite drawings depicting architectural constructions and the inner structures of materials. His artworks are characterized by the exploration of repetitions, rhythms and patterns.
Jean-Baptiste Monnin's background in architecture and fine arts influences his artworks. Faced with his aesthetically pleasing black-and-white artworks, the audience may be deceived into believing that they are observing abstract or architectural photographs.
However, the majority of his artworks are produced using graphite on paper, a technique which Monnin masters creating almost hyper-realistic works. His drawings are mesmerizing thanks to their geometric rigour but are able to stimulate the viewers' imagination at the same time.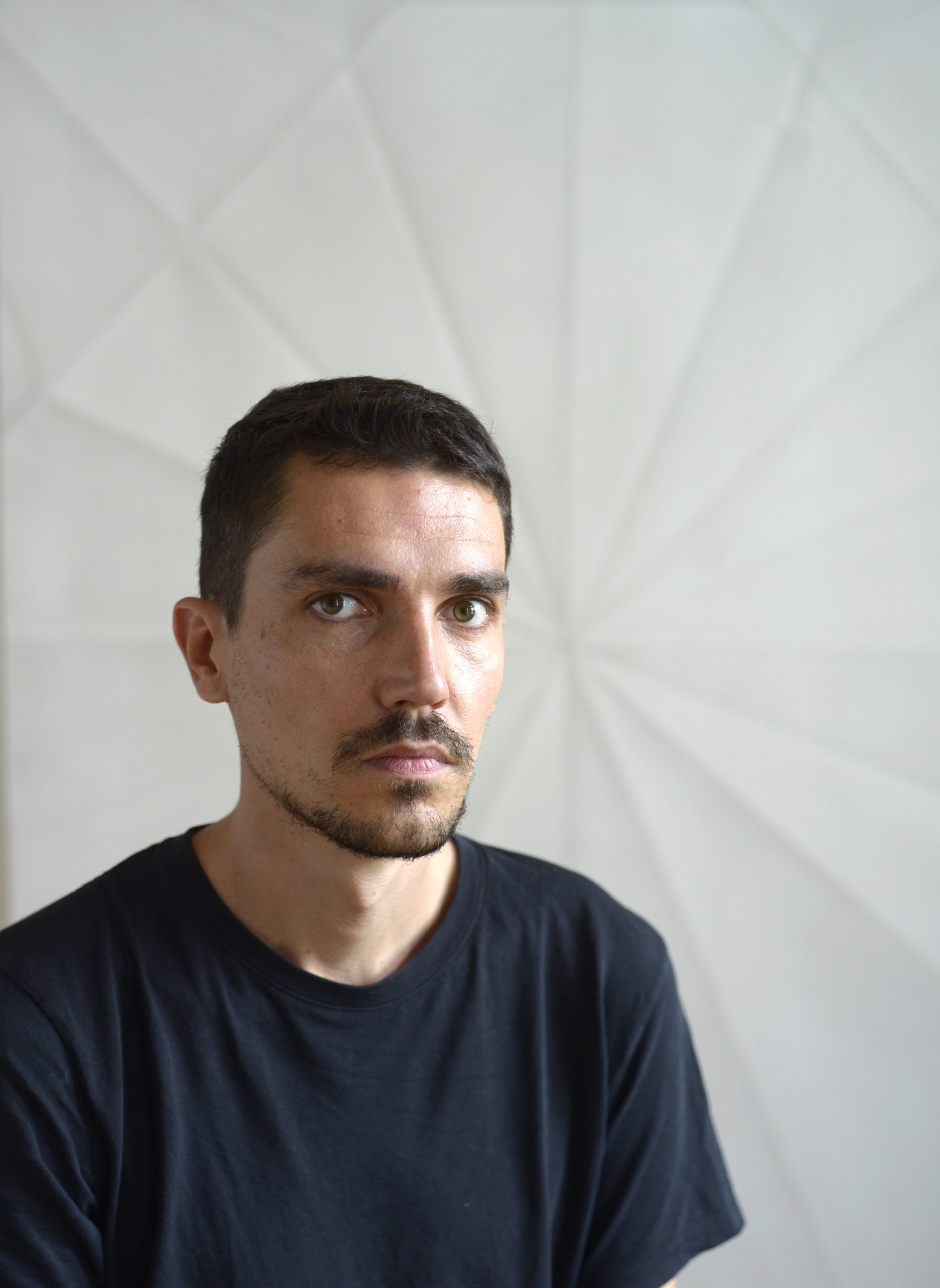 Jean-Baptiste Monnin
In fact, throughout his artworks, Monnin reframes spaces investigating the notion of scale and perspective. This makes the viewers lose touch with reality and, through a process of abstraction, allowing them to immerse themselves in a fictional world.
In the past this has been developed by creating complex artworks that explore architectural and urban spaces. For example, in his series Basculement. Each drawing originates from an existing modern or contemporary styled building photographed by Monnin. Reframed with a shifted perspective and redrawn by the artist, he creates 'abstract urban landscape'.
In his more recent artworks, his focus has shifted to the inner structure of materials and to their process of creation. For example, in the series Graphite on Paper, he reproduced the microscopic detail of a graphite mark on paper, magnifying with each drawing the same detail but at a different scale.
 In his series Fold, the artworks depict processed papers reproducing the fold formed to create geometrically accurate origami. In each of these series, Monnin's geometrical rigour in his technique and subjects evoke abstraction and stimulate the audience's imagination. 
 Monnin's portfolio not only consists of drawings but also in graphic works, photographs and sculptures.
See more works in our webshop archive >>
                    Alte Jackobsstrasse                                             Notre Dame du Haut. Ronchamps