KARI SÖDÖ (FI)
Playfully combining forms and colours, Kari Södö creates abstract sculptures, collages and prints. Being also a musician, rhythm too holds a paramount role in Södö's art.
Although he does not describe his art as political, many of his works have been created with current debates in mind. His sculpture The Encounter, for example, reflects on the absence of dialogue concerning the refugee crisis in Finland.
Södö metaphorically equates the various forms and materials of the artworks to the encounter between different people and cultures. Resulting in a vibrant and joyful sculpture, the artist shares a positive message about the beauty of a multicultural society represented by the different kinds of woods, shapes and colours he combines. Such praise is heightened by the implementation of the word 'joy' both in English and in German.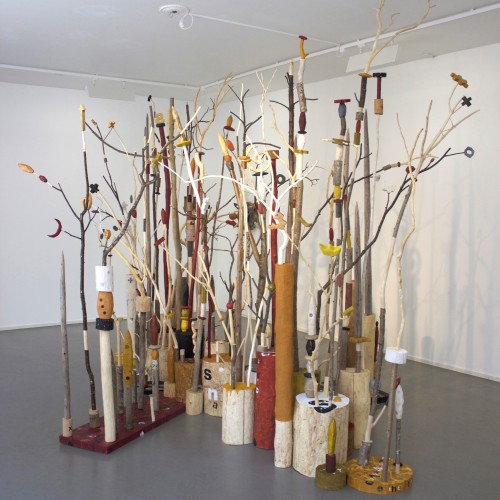 Kari Södö
Created by adding materials and forms like building blocks, Södö's artworks share a composite approach to their creation throughout different media. This has the ability to maximize the communicative potential of each individual element as well as heightening a cohesive message.
The characteristic playfulness of Södö's works (the use of joyful colours and building blocks) did not appear until the artist became a father; in fact, he previously created black and white artworks.
Södö graduated from the Kankaanpää School of Art with an education in graphics and specializing in metal. Due to the initial lack of resources to work metals, he started experimenting with collages and wood. Although he is now best known for his wooden sculptures, Södö keeps on producing exquisite prints and collages too.
Combining messages of social justice with a joyful colourful appearance, many of Södö's works are exhibited to the broader public in libraries and urban spaces, available for everyone to see and to reflect upon.
See more works in our webshop >>
The Encounter Collapse