KATARZYNA KOWALSKA (PL)

Katarzyna Kowalska has a background in both arts and law, and works in the fields of painting, mural and photography. She currently resides in Warsaw, Poland.
Her canvas work is the result of her combining two apparently opposite types of expression – the rigor of geometry and the expression of gesture painting.
The first is directly correlated with the sense of precision and rationality, rendering her paintings with perspective and volume, while the freedom of gesture that Kowalska applies to the same canvas provides a more organic sensibility to the work.
We see here the use of two distinct forms of expression that work together to give birth to the illusion of infinity and motion, something that seems real but ultimately is not.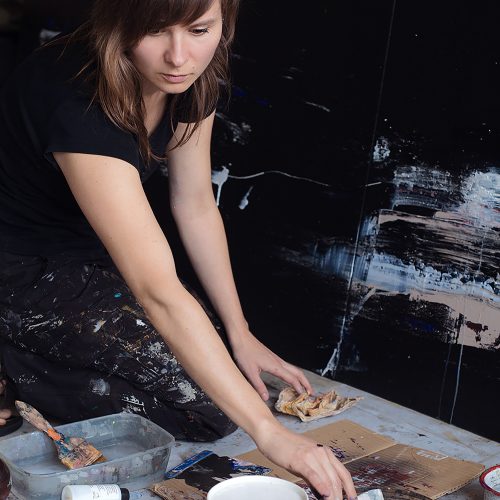 Katarzyna Kowalska
An important inspiration for Kowalska is architecture, urban space, design, street art and computer graphics. Kowalska says:  "In painting, the desire to find a "style" is a trap…I am fascinated by geometric abstraction, but also attempts to accurately combine elements of a geometric form with abstract expressionism."
See more works in our webshop >>
                  Multiperspective Landscape                                        Perspective Landscape