Katsuko Ono (JP)
Katsuko Ono's playful etchings are joyful circus sceneries, reminiscent of children's book illustrations. They are glimpses into her mythical stories and fairytale world, possessing a certain light-heartedness and joyfulness.
Delicate pastel and a few bright colours are used harmonically with white and gray parts. All the characters are placed carefully, embracing the cheer but also peaceful atmosphere.
Katsuko's landscapes present a dreamy and secure microcosm for children but also for those adults who want to embrace their childlike side. With great attention to details, all the elements are placed carefully creating a fascinating world where everyone is content and the limits of logic and the physical world are absent.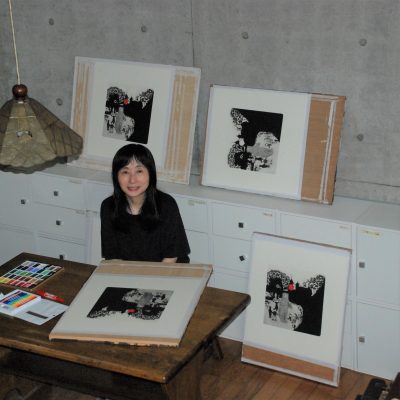 Katsuko Ono (JP)
Circus objects and symbols such as carousels, cards, elephants and bears are combined with fairytale characters, such as living snowmen, combined in such a way as to create fictional narratives.
Colour is sometimes only placed in specific parts of the sceneries, usually at the sky and at some forms that the artist wants to draw the attention to, while the rest of it is white and gray. The above contrast does not limit the joyfulness of the scenery, besides it brings balance and harmony as well as the possibility to the viewer to imagine the missing colours, reminiscent of a colouring book.
This dreamy cosmos is inviting for all ages, as it reflects an environment of security and comfort, where all the western fairy tale symbols meet. Everyone can connect with the classic tale elements, as is a reference to the social consciousness through the symbols of illustration of children's fairy tales, established for many centuries.
Find more works on our webshop here>>>>>
The Snowy Day                                                                             Peaceful Moment