Alejandra Coirini (AR)
Alejandra Coirini's realistic and colourful lithographies portrays different generations, coexisting in a domestic and festive environment. Crowded family and friendly gatherings are in the center of the synthesis, focusing on a particular moment, imitating the naturality and instant character of a family photograph. Therefore, many people are standing like they are looking at something, chatting with each other or posing for a picture.
Coirini is using everyday scenes of family – like meetings in a sensitive and expressive artistic manner, where the colour is very important. All the figures are black and white and some specific colours are used, such as green and blue, on their clothes and background. Consequently, a contrast between the faces and their environment is created and facial expressions are strongly highlighted, revealing also the group age of each bystander.
All the characters find themselves in a moment where they are surrounded by people in a perhaps familiar space. This crowded scenery creates a feeling of closeness, because of their physical presence in the space but at the same time there is distance between them, because they are spectators of an event without necessarily interacting with each other.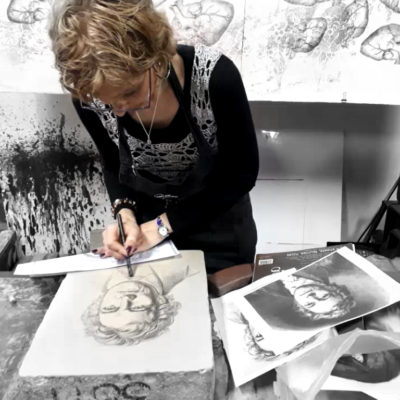 Alejandra Coirini (AR)
Nonetheless, the importance of οccasional social gatherings, even in a typical social manner and the coexisting of many generations in one space, reminiscent of big families, seems to be underlighted. Often the artist is also focused on the elder generations, placing them in the center of these events, bringing on the surface the quesion of marginalisation of the elderly today.
Find more works on our webshop here>>>>>
Snakes and carnations                                                                              70 years