Blaze Cyan (UK)
Text/Translation GHA
Blaze Cyan's etching and aquatints show her fascination with the mysterious nature of ancient trees and forests.    
Her etchings depict these in a harsh light, using a strong black and white contrast, while she highlights their existence that usually remains unnoticed and is taken for granted by people. Cyan's works convey her attraction to the mysterious and anthropomorphic nature and woodlands.
Blaze's work begins with an exploration of the landscape, hours of walking and quiet observation preceding all her work. The process consists of gathering tactile information, the knowledge of textures and understanding the quality and importance of light as well as the collection of memories.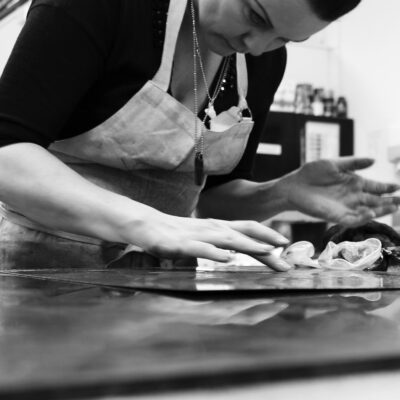 Blaze Cyan
Cyan's prints present the trees in a harsh light, with the use of heavy black-and-white contrast, turning the sky and ground into a mostly white background. This monochromatic approach may seem grotesque, but at the same time creates a beautiful and fascinating atmosphere. Simultaneously, by emphasizing the carefully crafted details of the trees' twisted trunks, she highlights the sacredness and wisdom of century – old trees that people have preserved since ancient times.
More works you find here>>>>>
                   The General (West)                               Complicated Life