Carles Mitjà (ES)
The photorealistic and dense heliogravures by Carles Mitjà explore detail oriented landscapes, inviting the audience to discover the complexity of nature. The artist's painstaking work and attention to detail enable the viewer to zoom in on the smallest sections of the works, such as leaves or blades of grass.
The audience dives into the silent landscapes and connects with nature. Mitjà focuses on the wide range of the black and white tones to present the untouched environment. It generates a tranquil atmosphere that facilitates the viewer to reflect on one's attachment to nature.
Mitjà's works embrace stillness as well as a certain dynamic in his images. Lack of focus conveys the movement of the grass in the breeze, whereas the pine tree remains still and in focus. Hence, we can compare how differently plants get affected by the wind.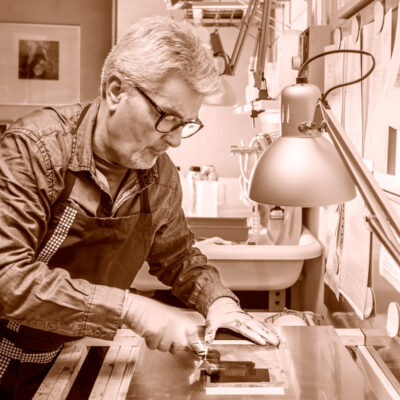 Carles Mitjà (ES)
Mitjà's photogravures on copperplate often capture smaller parts of landscapes, the viewer cannot see the sky or any big objects. Instead of portraying huge oaks, he prefers small ferns or tiny trees with a few leaves. This invites the audience to change their perception of sizes and their correlation with the objects they see every day. Anyone who is fond of highly detailed and photo realistic artworks will enjoy these beautiful prints of landscapes.
See more works in our webshop >>
                               Breeze 1                                                                         Fern 2