CHLOE GROVE (UK)
Text/Translation GHA

London-born artist Chloe Grove's artworks include large-format colour pencil drawings as well as small edition prints. Her subjects vary greatly but are connected by the artist's exploration of optical effects.
Her artworks are inspired by the principles of physics, digital aesthetics and space exploration as well as folk art and macabre themes. Her drawings are created by patiently layering and blending colours until the paper reaches a burnished sheen, a process which may take several months.
Such technique enhances her intention to focus her art in depicting the large and gradual. Her specific style is meant to counter the trend of new technology which concentrates on the small and faster.
Overall, her subject tends to be fixed in the tangible, but her creative process stretches reality and brings the viewer to disappear in a 'decelerated alternative reality', as Grove defines it.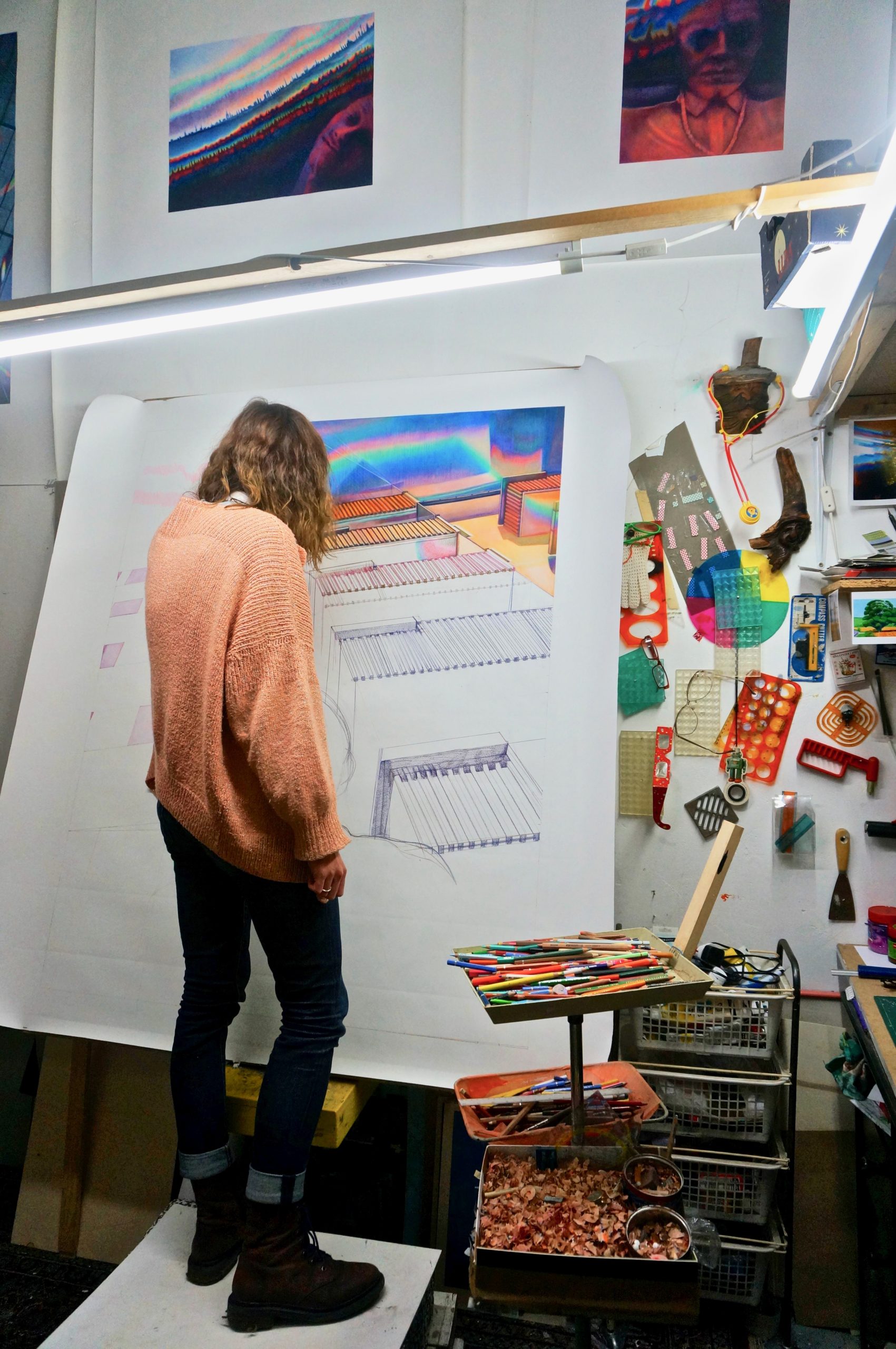 Chloe Grove
Diffracted Light, fleeting and intangible light refractions, are frozen in time and made eternal. They transform the mundane into the fantastic, making Grove's artworks a window to an abstract, alternative reality suspended in time. Grove supplemented her more recent works with drawings based on meteorite patterns: unique crystallised conformations found solely in iron meteorites. Such designs are formed as meteorites travel through space by the incredibly slow rate of cooling down.
Grove is also a printmaker and she works with a personalised printing technique that combines intaglio methods to create inked plates that are then printed with an etching press. The subjects of her prints vary considerably including monochromatic optical patterns and graphic works which explore the theme of bog bodies. Inspired by the 1911 artwork, Rizpah Watches Guard at The Gallows, Grove developed the latter artwork during her residency at ARTLAB Kettinge in 2018.
When looking at her artworks, the viewer can find a strong connection between structures, lines, and colours. In her latest prints she uses pink and gold hues that catch the light and creates contrasts with particular shadows. The whole composition seems to expand the embedded light. Through her works, Grove reinvents her practice, constantly experimenting new subjects but always creating artworks that demonstrate her strong technical abilities.
See more works in our webshop >>
     Tape Collage (Pink)                                     Selbstbildnis mit Amor und Tot