ERIC MUMMERY (CA)


GHA/ Translation GHA



Eric Mummery is a Canadian artist. The presented woodcuts are part of an ongoing series that explore the visual capabilities of strong black and white in graphic language.
The prints often represent mirror-like compositions using geometric elements, combined with rhythmic background patterns intensified by contrast. Mummery also keeps his prints close to his heritage by choosing to use local, natural raw materials.
He says about his work: "His current art practice is focused on a series of wood engravings exploring intuitive image creation as a means to better understand mental health issues". Transfixing the viewer with the use of dynamic lines, he portrays imaginary creatures, represented in surrealist and somehow cartoonish settings.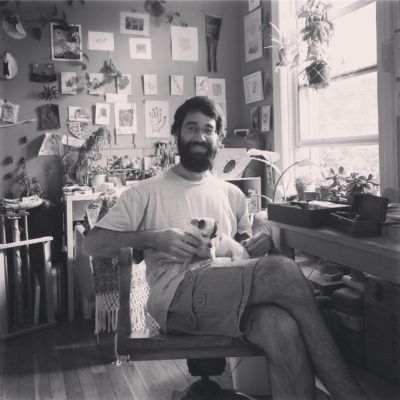 Eric Mummery
When looking at the scenery of his "Face To Face With" wood engravings series, the observer is able to enter an existential space. By questioning our way of communicating Mummery challenges the viewer to reflect on his place in the world and on our way to interact. Through the implemented balloons, often seen in comics, the viewer is invited to take part in the ongoing conversation.
This particular scenario appears to address the reflection on the complexity of our brain. Eric Mummery uses his artistic language to approach the audience directly though  hypnotising dynamic lines.
See more works in our webshop >>
                    FACE TO FACE WITH. EIGHT.                                     FACE TO FACE WITH. NINE.