Hristo Georgiev (BG)
Bulgarian artist Hristo Georgiev's large monochromatic linocuts with strong black lines focus on everyday life. Inspired by street art, his characters appear funny and ironic.
The pleasant and satirical aspect is given by the disproportion of figures, notably larger than in reality. Sometimes his characters don't fit or struggle to get inside his created space, suggesting to the viewer they are outsiders and should be treated as such.
His characters, in his monochromatic works, are at the center of the composition, leaving no blank space in the background and fully absorbing the viewer's attention.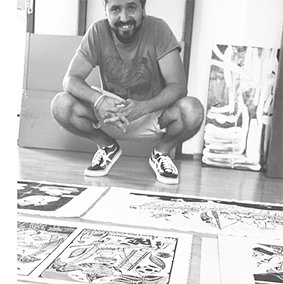 Hristo Georgiev (BG)
By enriching the composition with a lot of visual elements, such as hanging shoes, Georgiev's able to create a playful and amusing atmosphere. Street art artists have to act secretly in the dark without having the same privileges and recognition of institutionalized art. Georgiev brings the street art style into the spotlight in his own way.
See more works in our webshop >>
                     Generation 84, part2