Kristina Thun (SE)
Kristina Thun (SE) atmospheric photopolymer prints are based on the artist's memories, creating misty sceneries, with realistic and abstract elements, enhancing the feeling of nostalgia. Warm and earthy colours, embracing the feeling of security, harmony and comfort, incorporating important items from the past, serving the artist's memory.
Her scenery is a vivid representation of her dreams. Abstract and domestic symbolic forms, such as dining tables and houses, combined with sky sceneries, reminding the time of sunset. Her prints are emphasizing  indoor and outdoor elements,when materialising her idealistic world. At the same time, empty and sometimes monochromatic spaces underlining the presence of voidness and silence together with fragmentation, as the basic components of remembrance.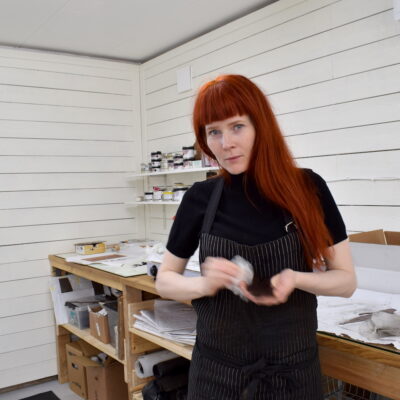 Kristina Thun (SE)
The symbol of home and the materiality that comes with it, is always highlighted. It seems that objects are easier to cherish and are a timeless auxiliary medium to intrigue the memory. The artist acknowledges the sentimental power and the psychological weight behind particular objects that people preserve and hold on to.
See more works in our webshop >>
                      Remember Home                                                   För många streck i handen