Lee Tek Khean (MY)
In his monochromatic woodcuts, Malaysian artist Lee Tek Khean presents post-apocalyptic scenarios depicting raging characters. The confronting situation shown is questioning the current state of our society captured through the pressuring atmosphere.
Once these issues are brought to light, the viewer is forced to face tough emotions that sometimes are left to the subconscious. Especially in our current society,  it is hard to imagine how restrictions imposed by totalitarian governments have a major impact on their people's lives.
The artist is able to reflect on how freedom should not be taken for granted and also should be seen as a precious resource. In this way, Tek Khean's proposal is to lead an act of artistic resistance.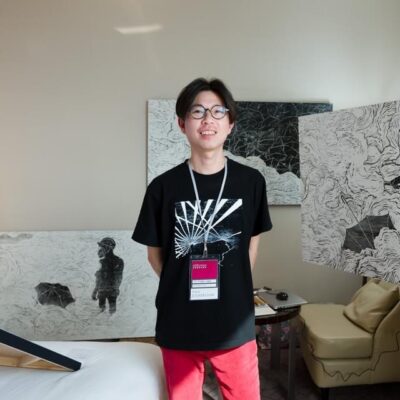 Lee Tek Khean (MY)
A sense of disorientation is spread all over the artworks due to the repetition of vertical and horizontal lines, giving the impression of windy-rainy weather. The characters are standing in tense postures, challenging their social status and silently fighting against personal limitations. The strong contrast intensifies the crude atmosphere: the blank paper left seems to enforce the audience to remember how precious freedom is.
See more works in our webshop >>
                             Surround                                                                    In Smoke44