Patrycja Chrzanowska (PL)
In her silkprint works Polish artist Patrycja Chrzanowska confronts her own feelings and perceptions of the world around her, resulting in her pieces acting as a sort of psychological self portrait.
What the viewer sees on the paper is essentially a visualization of Chrzanowska's observations about her surroundings. The particular choice of color gives the pieces their strong visual identity. Structure, patterns, color and the interaction between those aspects play a central role in her works. 
With clear influences from street art, stencils etc; Chrzanowska invites the viewer to enter her mind, to show them snippets of her daily life in a busy city. What seems at a first glance to be abstract, has in fact very clear references to landscapes. The artist often sets her works in an urban environment, which the spectator feels immediately at home in.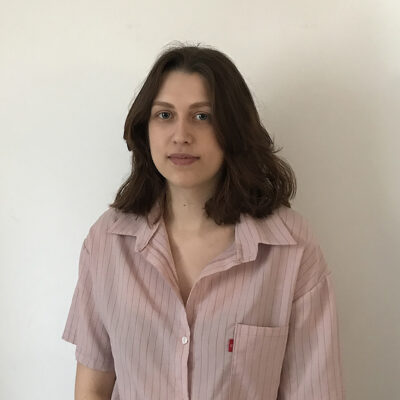 Patrycja Chrzanowska (PL)
Moments from a hectic city daily life are turned into colorful images and patterns, sometimes through free association, such as in the case of the blue cows prancing away in front of a background of rows of milk cartons in a supermarket. Chrzanowska takes ordinary, yet relatable scenarios, from her own experience – such as walking past graffitied walls or grocery shopping – and turns them into something playful and intriguing.
See more works in our webshop >>
                            I am the sense                                                            Milkshake 3000