TANJA K. JENSEN (DK)

Tanja Jensen is a Danish artist who creates delicate, detailed paper-cut collages that are rich in colour and full of life.
She was a creative child but it was not always her intention to study and practice art. Before she became a student at Det Fynske Kunstakademi in Odense, Denmark, from which she graduated in 2008, she attended a business school. Realizing the necessity for greater freedom to create she decided to change path, as working with art enables Jensen to act out her artistic language and reach out to the public.
At her art school there was a focus on painting. She grew tired of that, picked up a pair of scissors, and began to do cut-outs. Each one of the pieces takes about a month to create and slowly Jensen's art grew and her style developed.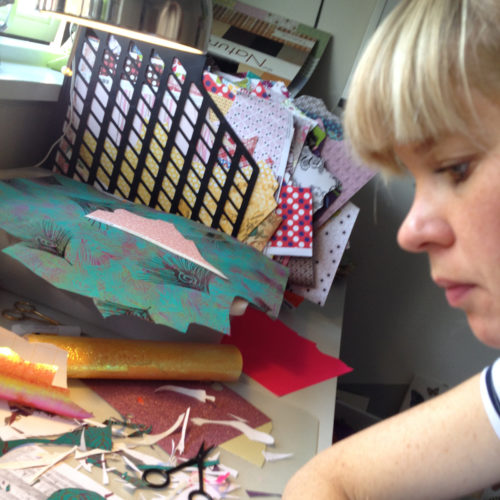 Tanja Jensen
The artist finds inspiration in nature, especially in the animal world. Her fascination and love for animals derives from growing up in the countryside where she would often visit her grandparents farm and the passion followed her into adulthood.
She also works part-time at a zoo in Odense. She is fascinated by animals because of their "innocence" and their "personalities" and often visits the library to search through books in order to find an animal that inspires her to create new artworks. Her pieces are developed in the process and never defined from the beginning. When asked if there is a specific story to her works she responds that the observers are invited to find their own narratives, and encouraged to use their imagination.
Jensen is using paper when creating her artworks but considers her work somehow sculptural, as it is three-dimensional. When looking at Jensen's art the impressive time, precision and effort spent on each work is seductive, appealing and offers a great journey into a endlessness "Wonderland". Enjoy the journey!
See more work in our webshop>>>>here
En skov med hjorte Cutted TJ Ugler