Anaïs Charras (FR)
French artist Anaïs Charras stages surrealistic figures in her drypoint etchings. Her creatures appear distorted and detached from each other, inviting the viewer to reflect on their inner landscape, almost causing an unpleasant feeling.
Emphasized by the constant pressure of being at the center of a stage, a recurring element in her compositions is theatre. This environment allows the characters to be questioned and elevate themselves. 
This idea of acting focuses on the characters' full achievement of tasks and experiences, in order to complete their passage to another step of life. 
The overall compositions are dynamic, not only due to the movement of the bodies when sometimes overlapping one another, but also due to the concept of evolution that Charras wants to express.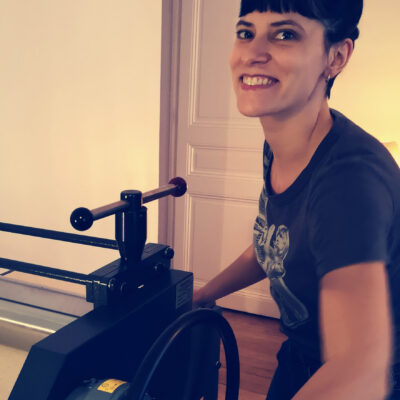 Anaïs Charras (FR)
Transition, passage and disappearance are the main themes dealt with in the artist's works. Facial expressions of the characters are on the edge between suffering and confusion, as if the reality in which they are depicted is not entirely their own. In contrast with this concept, sometimes the outlines are soft and harmonious, almost merging with the background.
Indeed, her compositions are defined by a theatrical space in which her characters are floating, as if they were in another dimension.
See more works in our webshop >>
                    Passage des Pilotis 7                                                               Rideau