CAMILLE THEODET (FR)

French artist Camille Theodet stands out for the seemingly blasphemous and satirical tone of his artworks. These consist of revolutionised versions of Christian artworks from the Renaissance, where the content appears totally distorted. Madonnas and sacred figures are deprived of their religious meaning and become icons of contemporary world, bearing the signs of capitalistic brands.
The technique employed by the artist is very diverse and composite: airbrush, gold painting, acrylic colours, spray paint on canvas are the most common materials that he uses to carry out his works, which are characterised by bright colours and plasticity. An over-enhanced physique creates a striking tension with the traditional idea of God as totally Spiritual and intangible, mixing the bright, diaphanous figurative tradition of Holiness and the sculporeous, exaggerated modern culture of bodybuilding.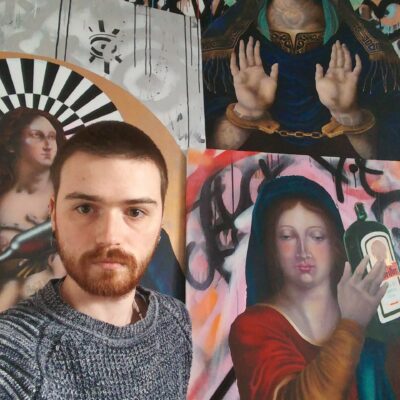 Camille Theodet
Contrast between the main figures and the background can always be traced, which brings out the main characters of the paintings. Moreover, these sacred symbols are depicted in front of a graffiti-like wall, emphasising in its brutally underground esthetic the contrast between sacred and profane, seen as the core of contemporary culture.
See more works in our webshop >>
Busted DADDY