CARMEN ARRABAL (ES)

In her installations, Spanish artist Carmen Arrabal expresses her criticism of the contemporary world, with particular attention to moral twistedness conveyed by society from our childhood. Second-hand toys, LEDs, videos, recycled and processed objects such as old tablets are just a few of the media that she employs to express her creativity.
The choice of some of these can be explained in relation to the structural contribution that they apport to her multidimensional artworks; some others, instead, become the carriers of social denouncement and/or analysis. Recycled toys are undoubtedly the most impressive elements for beholders: reusing industrially produced objects for the market of childhood allows her to flush out all the subliminal messages vehiculated by our consumerist society and imprinted in our innocent minds from the very first years of our life.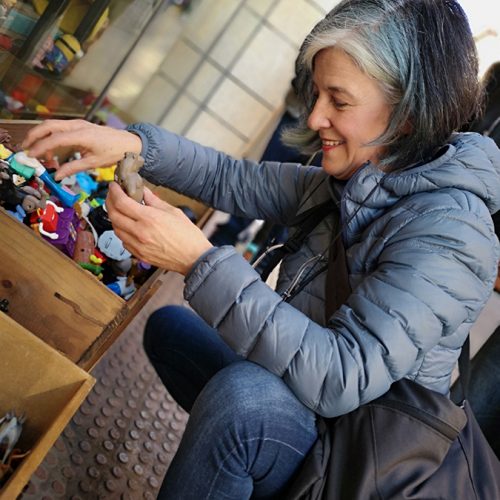 Carmen Arrabal
What appears more striking is the little room granted to normality and real self-expression: boys' models are heroes or well-built cartoon models, girls' aspirations revolve around skinny and artificially beautiful mannequins. But this is not all: recycled toys in Arrabal's artworks also want to be morally questionable and subversive, as she states by naming one of her series: some childhood's fairy tales are translated into mischievous artworks, whose well-known and originally innocent characters are here distorted, for instance with the help of seducingly dressed dolls. Overall, an upsetting sense of estrangement mixed with a taste of melancholy can be felt by observing her composite artworks.
See more works in our webshop >>
                      In Ther Forest                                                               Wonderful World