José Schneedorf (BR) 
José Schneedorf's alarming screenprints featuring human figures raise awareness of one of the most important current society issues – HIV/AIDS.
With the use of complementary, often monochromatic colour schemes, as well as contrasts and shadows, the artist focuses on depicting human figures. Often, these figures seem to be trapped and tied down, as if they were helpless and threatened by other people surrounding them. By doing so, Schneedorf illustrates the attitude towards those infected.The artist explores the collision and the coalition between the art of the 1980s and the HIV/AIDS virus. By contesting and discussing the taboo and negativity surrounding the topic of HIV/AIDS, he touches upon historical themes as well as important societal themes. Schneedorf's works picture heroic protagonists, such as Greg Louganis or Rotimi Fani-Kayode, in historical settings.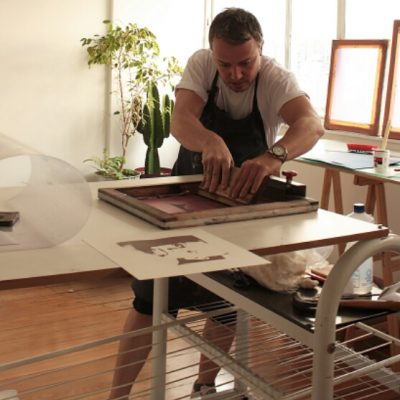 José Schneedorf (BR)
The detail that most of Schneedorf's works share is the red element contrasted with the chosen color scheme. The red symbol represents HIV/AIDS and is visible in almost all screenprints. The red color stands for the social emphasis added to the characters, an emphasis which should be viewed positively, instead of negatively or as a taboo. Schneedorf invites the audience to explore the topic of HIV/AIDS in his art.
Find more works on our webshop here>>>>>
Grifo nosso: Rotimi Fani-Kayode                                              Grifo nosso: Greg Louganis