Yama Rauf (AF) 
Noted film and TV director and scriptwriter Yama Rauff (AF) has been writing poems and visual stories since age nine. Later in his youth he moved also into film making, both still to date being great passions for him as professions.
Rauff's work can be seen to be influenced by his roots and experiences in the Afghan culture, where women's lives are steered through old traditions, such as arranged marriages.
In his work "NO WOMAN" Rauff once again brings forth the discussion about the degrading of women and inequality between sexes.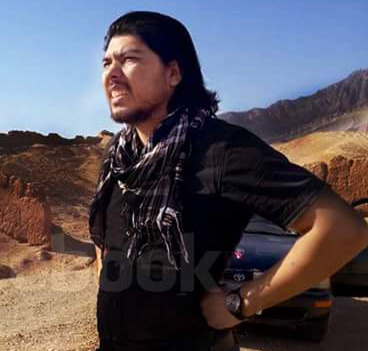 Yama Rauf (AF) 
The video was created for a competition at a Women's Rights festival sponsored by the US consulate in Mazar-e-Sharif in 2015. This was the first opportunity for Rauf to officially direct a film for which he went on to win the prize for best film. "NO WOMAN" qualified for several film festivals in Canada, America, Australia, Russia, Romania, Poland, Italy and Iran whilst also being exhibited at our gallery in Berlin and in Kettinge.
Yama Rauff's tense video short encapsulates a critical moment in the life of a girl walking the desert. No Woman points at  the situation many women in islamic countries face.
No Woman
See en.wikipedia.org/wiki/No_Woman for more info about the film.
Video af Yama Rauff. Med tilladelse fra kunstneren, alle rettigheder forbeholdt.