Kristina Norvilaitė (LT)
Central to Norvilaitė's linocuts is perhaps an exploration of mental health and how different external influences affect the individuals.
Kristina Norvilaitė is a Lithuaninan artist, she takes part in many interdisciplinary art projects. She is a volunteer at a children' hospital, leading a graphic workshop there. This context helps us understand her works better where human figures, especially children, are surrounded by somewhat biological structures. These subjects seem worried, sad or anxious. Three main colours are used: black, red and white. These are all juxtaposed, with somewhat biological objects and human subjects superposed on one another. An overall uneasiness is created with these colours and shapes, perhaps reflecting the emotions Norvilaitė encounters when visiting the hospital.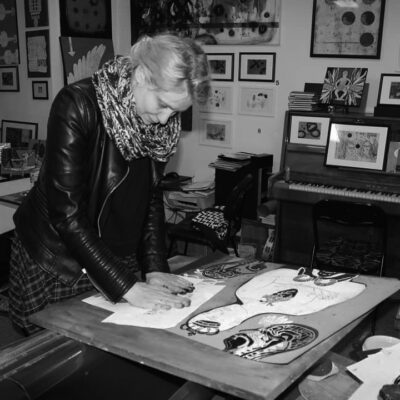 Kristina Norvilaitė (LT)
Nevertheless, despite this tension, a certain tunefulness is created through the placement of the objects, almost like a musical tone. These elements reflect Norvilaitė main areas of focus: emotions, the human body and music. The overall melody of the works can also be explained with her work process, about which she states, "I work in my studio every day, while listening to classical music, which fills me with inspiration and then I let my visions take over" (2019).
Find more works on our webshop here>>>>>
Voice Training                                                                      The World of Pure Imagination