Art- Lab spring exhibition
3.juni-2.august 2015
Galleri Heike Arndt DK presents talented artists from Finland, Ireland, Norway, Sweden, Germany, Italy and Japan at our exhibition in
Galleri Heike Arndt DK Kettinge
About the exhibition:
Dear art friends. After 4 month of traveling in Europe, we are bringing as usual exciting art to Lolland Falster. At our summer exhibition, we will continuously hanging new works as we unpack the new pieces. Every Saturday and Sunday, we invite you for a terrific exhibition a free cup of coffee or tea and a chat in the gallery or in our wonderful garden. You can even bring your own lunch. Galleri Heike Arndt DK shows new pieces by Anastasia Savinova – drawing (RU),Lillian Presthus(NO),Henry Stöcker (DE) , Giuditta R – drawing (IT), Stig O. T. Fredriksson – painting (SE), Takuya Kurihara – painting and drawing (JP), Maria Persson – drawings and graphic (SE).
So come! Join us on a journey out in the modern world and into the nooks of human minds. You will definitely have fun! Again, this year we will have new artists working in our residency and look for inspiration her in our region. This initiative you can hear more about in the future as we hope to invite you to our artists talk -so stay tuned!
Maria Persson (SE)
Maria Perssons' works of art possess a characteristic idiom and manner of painting. Rich colouring, details and dynamic seem to form a synthesis when she – under the influence of street art – let her illustrations wind their way into the mind of the viewer. Maria is both illustrator and a graphic artist, and has illustrated several children's books, latest the Swedish book, "Var ska Myrre bo?". Read more about the artist here.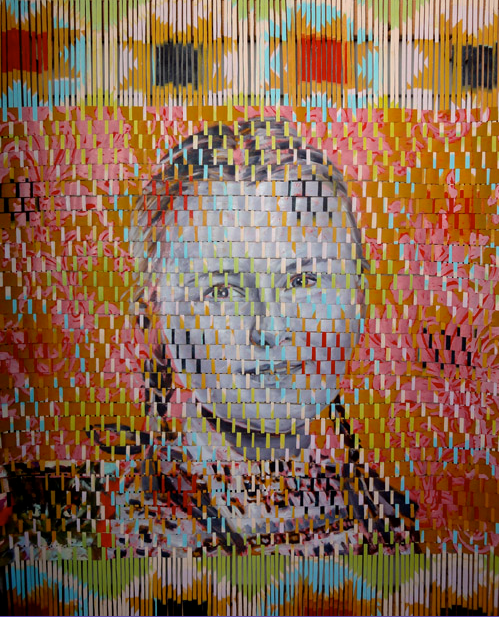 Lillian Presthus (NO)
Artist Lillian Presthus is transforming the traditional media of painting. Using both old family photographs and patterns from the Norwegian textile tradition, Presthus' art has a highly personalized starting point. – She herself comes from Ytra Arna outside Bergen, a leading area for the Norwegian textile industry, and the influence is unmistakable. By processing former works of art and rural culture, Presthus manages to turn the deeply personal into something universal. In that way she, so to say, destructs harmony to re-establish it once again in a modified form of new meaning, order and balance: Unfamiliar faces transform into familiarity and Norwegian patterns into any other culture's artistic expression. The deconstruction technic and the use of either delicate pastel or saturated colour palette cause Presthus' paintings to become highly sensitive and conspicuous. Despite the traditional motives from domestic situations and family life, her pieces of art possess a modern touch. In artistic-vice terms, her patterns both function as dynamic and abstract structures and as a play with the immediately two-dimensionality of the canvas. In that sense Presthus continues the modernist tradition and its search for the possibilities and limitations of the painting media. Read more about the artist here.
Henry Stöcker (DE)
The sculptor Henry Stöcker was born in Bergen on the island of Rügen, Germany. He started studying biology in Rostock, which he added with art studies in a city that also became his future home; Berlin. As a sculptor and trained biologist, his works mainly consist of materials such as concrete, gypsum, metal, wire and wax. The works take their starting point in a dialogue between the organic form and the artistic expression, leaving us constantly looking in faith to be able to recognize something. Stöcker's art reflects his interest in reshaping imaginary perspectives. Reduced to a minimum of necessary material, these works convey both joy, humor, and let spatial images surprisingly arise in our consciousness. His sculptures are based on an extensive sketch material – to the finished filigree drawing – clearly influenced by its design. It is with a direct and playful language Stöcker invites the spectators to explore a world of imagination. Read more about the artist here.
Anastasia Savinova (RU)
At present time, the Russian artist Anastasia Savinova lives and works in Uppsala, Sweden. Her art pieces have previously been showed in Spain, USA, Great Britain, and are now coming to Denmark. In her artistic work she balances in between different techniques such as drawing, photographing and oil painting. By looking at her works one can see references to architecture, geometrical forms and human conditions. Read more about the artist here.
Giuditta Rustica (IT)
Galleri Heike Arndt DK: Distorted faces of children look like those on long forgotten photographs and make the encounter with Giuditta R's art both disturbing and compelling. In her search for the dark and subconscious sides of the human mind and how they manifest themselves as tangible motives, the Italian artist use horror movie aesthetics and an expressionistic style. Often, her drawings have a touch of melancholy and mystery, and in that sense they seem to reflect the appearance of the subconsciousness. Read more about the artist here.
Stig Olav Tony Fredriksson (SE)
Stig Olav Tony Fredriksson is a Swedish artist who has exhibited and participated in cultural projects in respectively Finland, Norway and Sweden. Stig likes to work locally, and says: "My work often has an urban expression, and I combine my artistic skills with my interest in art-activism, recycling, public spaces, street art/graffiti and do-it-yourself." Read more about the artist here.
Takuya Kurihara (JP)
The Japanese artist, Takuya Kurihara, makes acrylic paintings and drawings that explore our human universe. With delicate and light pencil strokes the lines almost seem to float, and thus one feels the artist's Asian background. The combination of these floating lines and colours add a wealth of details to the paintings, and make them work as kaleidoscopes: continuously, they produce new images and tales in front of the viewer's eye. With aroused curiosity the viewer, consequently, is taken on a voyage of discovery into the universe of Kurihara. Read more about the artist here